Oatmeal Lavender Rose Bath Soak
The Oatmeal Lavender Rose Bath Soaks is a fragrant blend of lavender, rose,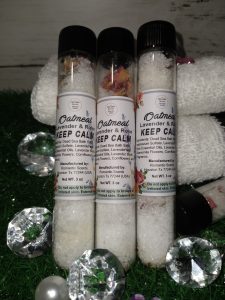 oatmeal, and chamomile essential oils.
Our bath soak recipes are gentle and are carefully formulated and tested by me, my friends, and my family. When you place your order with us.
Recommend Product: Lick Me All Over Lotion 8 oz
Varying Sizes: 3 ounces
See Whats Trending: View Blog
See: List of Ingredients
Disclaimer: 
Please do not use if you have broken, cracked, or irritated skin, or allergic conditions.
Keep away from the eyes.
External Use Only.
As required by the FDA, we do not make any claims regarding the cosmetic or health-related properties of our products.
Follow your practitioner's advice.
These statements have not been evaluated by the Food and Drug Administration (FDA). These products are not meant to diagnose' treat or cure any disease or medical condition. Please consult your doctor before starting any exercise or nutritional supplement program or before using these or any product during pregnancy or if you have a serious medical condition.