Handcrafted soap has become more well-liked in recent times because of its all-natural components and distinctive handmade appearance.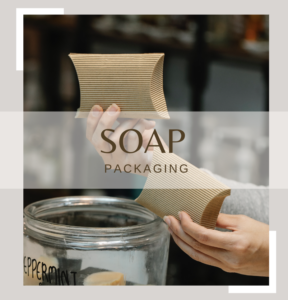 There are many artisan soapmakers that develop their unique formulas and packaging ideas, which leads to a large selection of handcrafted soaps available on the market. Handmade soap comes in a variety of containers, from plain paper wrappers to fancy boxes or bags, and labels frequently list the soap's components and any distinguishing characteristics.
Recommended Product: Looking for Soap Packaging on Amazon | Find Soap Packaging on Ebay
Packaging may be utilized to improve the soap's overall appearance and appeal in addition to safeguarding it and maintaining its quality. A lot of soapmakers invest a lot of time and imagination into the design of their packaging, utilizing a range of supplies and methods to produce aesthetically pleasing and practical packaging that captures the essence and aesthetic of their brand.
Recommended Reading: View Blog
Labels are an essential component of soap packaging because they tell consumers about the ingredients used, any unique qualities or advantages of the soap, and safe usage guidelines. Labels for handmade soap must adhere to a number of rules and specifications, including descriptions of the ingredients, net weight, and the soapmaker's contact information.
Overall, the packaging and labeling of handmade soap are crucial for maintaining the quality of the product and informing customers about it. It is a crucial component of the handmade soap business and aids in separating it from mass-manufactured, commercially produced soap.
Recommended Video: Watch Video on Youtube