Lick Me All Over Body Lotion is part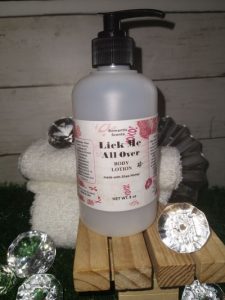 of our signature collection when it comes to hand lotions. Smells like sweet cantaloupe, fruity raspberry, watermelon, jasmine, violet, grapefruit, and kumquat!

Get Your Body Lotion Now!
Our Lick Me All Over Body Lotion is a unique, natural, nourishing treatment, soft, smooth, and silky for your skin. Smooth your body, especially for dry regions like elbows, knees, and feet. It's majestic, no matter the season.  Our romantic Body Lotion can be given as a unique gift for your special friend or loved one? Look no further than our hand-made Romantic Scents body lotions vary from most rivals and are much better for your body. 
#skincare #lotions #skincareproducts #hydrate #daily