Why do I like Lemon Essential Oils?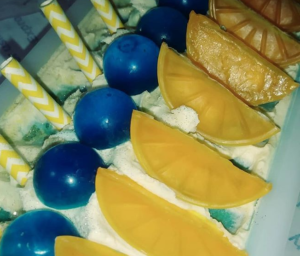 Today is a great day to relax and kick your feet up and enjoy the tranquility of the day. Essential oils offer wonderful benefits to health and spiritual healing. You can incorporate essential oils into your bath-time, spa day, kitchen, and home routine.
Many essential oils have antimicrobial and antiseptic properties that can reduce airborne bacteria, allergies, and viruses. Just adding a few drops to your laundry, while washing your clothes can add a fresh clean after aroma to your garments.
Over the decades, essential oils have made its' debut into the skincare industry. The nourishing properties in essential oils help cleanse normal skin and revive dry and sun-damaged skin.
Clinical studies have shown that a healthy diet and lifestyle can improve overall health. Romantic Scents (Bath Body Soaps) has been finding ways to use essential oils more into handmade soaps.
Our romantic natural soaps have the finest of organic ingredients and each soap bar is handmade to provide therapeutic support and relaxation to the physical and emotional senses.
As a soap maker and beauty enthusiast, I find that I enjoy the most is the thrill of soap making and experimenting with different fragrance blends and essential oils combinations.
One of my favorite natural soap recipes includes lemon essential oils and blueberries. ?
I have included a basic soap recipe if you care to try your own version of making Lemon Blueberry Soap. The main ingredient in the Lemon Blueberry Soap is the Lemongrass essential oil.
? ♥ Basic Soap Recipe ♥ ?

A starter cold process soap recipe for those new to soap-making. It contains ingredients that can be found at most grocery stores. You can customize the recipe the way you want it.
Coconut Oil – 7.9 oz. |
25% Vegetable Oil – 6.3 oz. |
20% Olive Oil – 15.9 oz. |
50% Castor Oil – 1.6 oz. |
5% Distilled Water – 10.5 oz.
Lye – 4.4 oz.
Water as % of Oils = 33
Super Fat/Discount = 5%
** **? SOAP-MAKING TOOLS **?**

Olive Oil – http://amzn.to/2nulBB4
Coconut Oil – http://amzn.to/2nLtSDu
Soybean Oil – http://amzn.to/2on5tFC
Castor Oil – http://amzn.to/2nqUt57
Sodium Hydroxide – http://amzn.to/2ntPNww
Lemongrass essential oil is an anti-inflammatory essential oil that can minimize the symptoms of asthma and arthritis. Please be aware that essential oils must not be consumed. Essential Oils are for external use.