Egyptian musk is a popular fragrance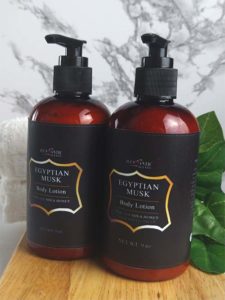 that is often used in body lotions and other personal care products. The scent is described as being warm, exotic, and slightly sweet, with hints of musk, amber, and sandalwood. It is believed to have a calming and relaxing effect on the mind and body.
Shea butter is a natural, fatty oil that is extracted from the nuts of the shea tree. It is commonly used in skin and hair care products because of its moisturizing and nourishing properties. Shea butter is rich in fatty acids and antioxidants, which help to nourish and protect the skin from damage.
Recommended Product:  Unrefined Shea Butter on Amazon
Honey is often used in skin care products because of its natural antibacterial and anti-inflammatory properties, which can help to soothe and protect the skin. Honey is also a natural humectant, meaning it helps to draw moisture into the skin and keep it hydrated.
Together, the ingredients in an Egyptian musk body lotion with shea butter and honey may help too moisturize and nourish the skin, leaving it feeling soft, smooth, and healthy. The fragrance of the musk may also have a calming and relaxing effect, helping to promote a sense of well-being.
Recommended Product: Egyptian Musk Body Lotion